RSS

3 March 2017
Version 2.2.0: fixed some issues causing processing to stop at 99% and never finish. Other minor fixes and improvements.

20 August 2016
Version 2.1.2. Improved support for filters like "frame merger", fixed issue with sometimes incoherent updates of picture in preview or when enabling/disabling filters.

1 August 2016
Version 2.1.1: Make VirtualDub plugin support great again. Fixed problems related to plugin's settings saving and loading. They manifested with "Gradation Curves" filter but could arise with some others too.

8 July 2016
Video Enhancer 2.1.0: added batch processing, more bugfixes and improvements. Now you can select many input files, make a list of them, and after you create a chain of filters for processing them, press "Save video" and all the input files will be processed one after another with the same settings and filters. You can control where to place the new files and how to name them.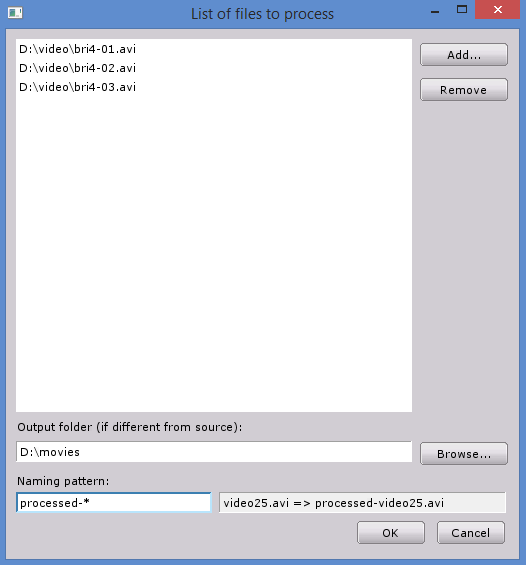 16 June 2016
Video Enhancer updated to 2.0.7: fixed annoying bug with saving files.
25 May 2016
Video Enhancer version 2.0.6: better work with codecs, special support for Deshaker filter (two pass processing), more bugfixes. Apparently this version introduced a bug where it could only save files when some VirtualDub filter was selected, this caused a lot of "Can't save video" errors. Sorry about that, the bug was fixed in 2.0.7.
April 2016
Several updates of Video Enhancer with bugfixes and speedups.
31 March 2016
Video Enhancer 2.0 released. Completely new UI with instant visual feedback and live preview. Improved stability.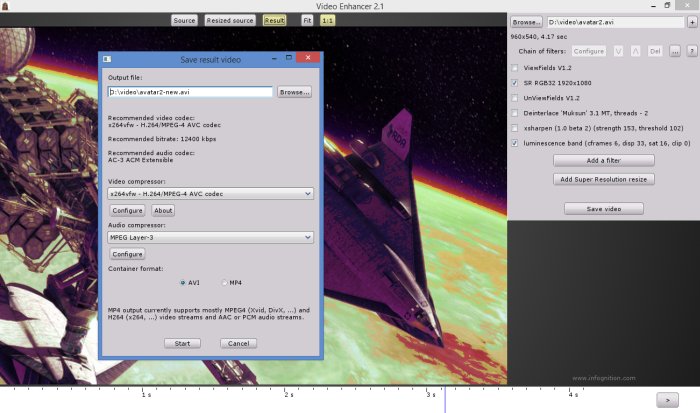 Version 2 is very different from versions 1.x in its user interface and overall workflow. In versions 1.x you could build a chain of filters but each filter had to be configured almost blindly, usual Preview function from filter's settings dialog did not work, you had to save filter settings, then run general Preview in main Video Enhancer window that launched the processing of whole video with all the filters applied, just without saving the result. In version 2 this is no longer the case, now all changes in filters are immediately visible, and if you press Preview in a filter's dialog you can immediately see it applied in the main video window. You can also change order of filters and turn them off and on, just like one would do with layers in Photoshop or similar image editors. Everything became very interactive, all changes immediately visible. You can use timeline in the bottom to jump to different parts of your video and see them processed. You can compare original and processed video by switching the view with corresponding buttons on the top. After you're done building the filters chain, you just press "Save video" and there you can select how to name the new file, select its format (AVI / MP4) and choose codecs for video and audio.
Another major change in version 2 is internal, how it works. Now all actual work with video files, with codecs and filters, is moved to a separate process while the user interface works in its own process. Which means if some codec or filter crashes, it does not crash Video Enhancer itself, it will silently relaunch the worker process without losing any important information.
23 March 2016
Video Enhancer 2.0 goes public beta.
19 December 2015
Video Enhancer updated: better support for AAC and VBR (variable bitrate) audio streams in general. This fixed most audio/video sync problems.
08 October 2015
Update to 1.9.12.1: better support for Windows 10, improved opening and decoding of different video formats.
24 September 2015
A minor update: now automatically converts audio stream to format (frequency and number of bits) selected when configuring audio codec. Previously it tried to feed decompressed audio to the encoder as is, and if the encoder couldn't convert the audio format a dialog was shown for selection of actual formats the codec can convert this stream to. For example, if a source file contains 22 KHz audio and audio codec is configured to make 44 KHz MP3 stream then previous versions of Video Enhancer would suggest selecting another format for MP3 output: 22 KHz or less. The new version in this situation would just convert the audio to 44 KHz stream and hence write in format that was selected initially.
11 July 2015
Video Enhancer 1.9.12 released:
Added support for MP4 output (experimental)
Support for more advanced plugins
Conveniently search filters by name/author/description - just enter any substring of it
Better working automatic plugins downloading
Fixed some minor bugs and annoyances.
29 November 2014
Filters database updated. Automatic download and installation of filters in Video Enhancer improved significantly.
2 July 2014
Video Enhancer updated to 1.9.10.1. Some bugfixes and speed improvements.
27 May 2014
Version 1.9.10. New option "Don't use unknown decoders" for disabling automatic selection of decoders by OS, use only well known decoders. New feature: now it is possible to use command line interface to apply Video Enhancer projects (saved sequences of filters with their settings) to videos. Fixed some bugs as well.
30 December 2013
Version 1.9.9 released. Super Resolution got 1.5 - 3 times faster with slightly higher quality. New way of handling codecs. Other improvements and bugfixes. One more translation added: Chinese.
8 September 2012
Update to 1.9.8.2. Fixed bugs with progress window and video showing. Slightly faster work. Added Serbian language.
2 June 2012
Version 1.9.8 released. Resizable preview and other improvements. One more language added: Indonesian.
12 January 2012
Bugfix update to 1.9.7.2. More stable work with plugins.
06 January 2012
Bugfix update to 1.9.7.1. Wizard mode was broken in 1.9.7, now fixed.
03 January 2012
Version 1.9.7 released. Filters selection and installation made easy. Better frame rate handling. Codec recommendation and bitrate calculation.
31 May 2011
Fixed bug causing crashes with big frames in low memory conditions.
December 2010 - May 2011
Added Portuguese, Italian, Turkish, Dutch and Swedish translations.
08 December 2010
New video resizing tools comparison published, Video Enhancer proved its best quality among 17 different tools and resizing methods.
24 November 2010
Version 1.9.6 released. Improved Super Resolution engine: 1.5-2.2 times faster, higher quality. Interface in 7 languages.
17 September 2010
Version 1.9.5 released. Better compatibility with different decoders, no more artifacts from colorspace conversion, automatic checks for updates.
11 September 2010
Update with some bugfixes and improvements.
02 September 2010
Version 1.9.4. Up to twice faster, slightly higher quality, no more conflicts with nVidia drivers in Win7 and Vista, saving and loading projects, localizations support. Details...
11 December 2009
Filters database updated. Now 226 VirtualDub filters supported.
19 January 2009
Major update of filters database. Now 210 VirtualDub filters are supported by Video Enhancer!
24 October 2008
Version 1.9.3 released. Higher Super Resolution quality, improved audio/video sync.
7 September 2008
Video Enhancer v1.9.2 released. Better AVI writing (Media Player Classic problem fixed), comprehensive manual, ability to stop batch processing, some interface improvements like using percents in sizes.
10 June 2008
Video Enhancer v1.9.1 released. Fixed Nero incompatibility. Improved support for some codecs.
8 May 2008
Video Enhancer v1.9 released. Fixed audio/video sync problems. Added sound codecs configuration (select bitrate etc.). Improved compatibility with some codecs.
11 February 2008
Video Enhancer v1.8 released. Improved support for different codecs and formats. Added batch processing: just select several files, and VE will process them all.
2 September 2007
Video Enhancer v1.7 released. Added Preview function, filters settings aren't lost anymore, added Video Enhancement Wizard, new look with skins.
16 June 2007
Video Enhancer v1.6 released. Super-resolution speed increased up to 5,4 times while quality remained the same. Now SR is multithreaded. Added command line interface.
| | | |
| --- | --- | --- |
| Speed compared to v1.5 | Slow mode | Fast mode |
| 1 core | 1,9 times faster | 1,5 times faster |
| 4 cores | 5,4 times faster | 3,5 times faster |
13 May 2007
Video Enhancer v1.5 released. Improved super-resolution quality, improved support for different formats, including VBR audio. High quality mode now 1.5 times faster.
14 December 2006
Video Enhancer v1.4 released. Improved VirtualDub compatibility, improved Super Resolution quality, fixed bugs.
11 November 2006
Video Enhancer v1.3 released. Improved support for different file formats, added audio recompression.
11 August 2006
Video Enhancer v1.2 released. Processing speed improved significantly on multiprocessor systems, Dual Core and hyperthreading CPUs.
28 July 2006
Video Enhancer v1.1 released. Now works with files containing mp3 audio stream.
10 July 2006
Video Enhancer v1.0 released.